I love the way a salad becomes a favourite & gets served over & over before being laid to rest when another comes along. This Mexican Salad with Black Beans, Avocado & Jalapeños is my favourite this holiday season. Why??? For a starter it looks good! We eat with our eyes first. Who doesn't love hearing the oohs & ahhs as a dish is brought to the table. Secondly it's so tasty. The black beans, corn, capsicum, red onion & avocado go so well together whilst the jalapeño gives this salad a hit of heat. I love to serve it with plain corn chips on the side to use as dippers or to crunch over the salad. A dressing of sour cream & jalapeños drizzled over the top makes this salad a winner for all the family.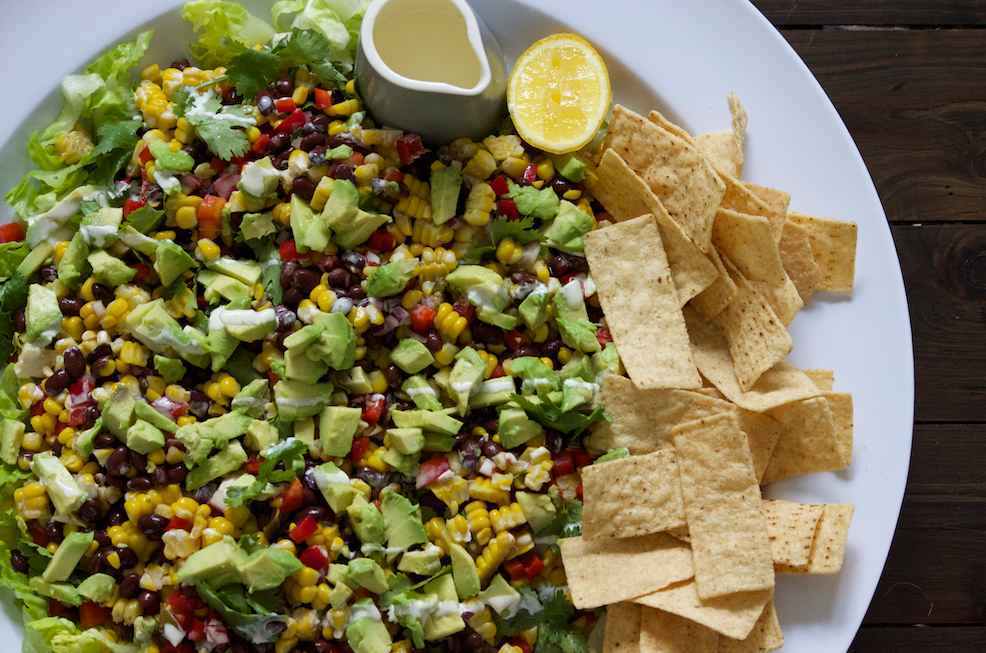 Thirdly, it's loaded with nutritients with a balance of protein, quality carbohydrate & healthy fats. By making sure you include this trio in all meals you'll feel fuller for longer & less likely to snack between meals. I'm so passionate about this combination of delicious AND nutritious. For the last 3 years I've been studying & am now a qualified nutritionist. Woohoo! I can't wait to implement so many of the things I've learnt into our catering.
Did you know black beans are an excellent source of protein, fibre, iron & magnesium? In times of stress magnesium levels become quickly depleted. It's very important to keep our intake of magnesium containing foods high as it is needed for over 300 functions in the body. Black beans are also a wonderful source of iron. Iron carries oxygen throughout the body & is so important for optimal mental & physical performance.
When buying black beans in tins try to buy organic & BPA free. Many conventional cans are lined with BPA & you don't want this hormone disruptor leaching into your food.
We're all hearing nowadays about the importance of including healthy fats in our diet. Avocado is a wonderful source. It's full of monounsaturated oleic acid, the same fatty acid found in olive oil making it fantastic for heart health. Eating a healthy fat with foods containing fat soluble vitamins A, D, E & K ensures maximum absorption too.
I'd love you to try this recipe. Did I mention it's quick & easy too 🙂
I'd also love to hear what your favourite salad is.
Happy holidays.
Wendy