Calcium = Strong Bones. Well yes and no. Calcium is only one piece of the puzzle. Vitamin D, magnesium and Vitamin K2 are equally important.
99% of CALCIUM is stored in bones and teeth and 1% is found in the blood and fluid surrounding cells. Calcium in the blood is maintained within a very narrow range. The effects of calcium are so vital to life that a dip in calcium blood levels will result in calcium being drawn from your bones.
Food sources of calcium include:
Dairy - choose full fat
Fish - sardines, salmon, mackerel, herring
Dark green vegetables - kale, spinach, broccoli
Fruit - oranges, figs
Nuts - almonds
Seeds - chia, sesame
VITAMIN D is needed for absorption of calcium from the small intestine and into the bloodstream.
We primarily obtain Vitamin D from the sun (approximately 90%) and a small amount from foods.
Food sources of Vitamin D include:
Cod liver oil
Fatty fish such as salmon, herring, sardines
Egg yolk and butter
MAGNESIUM is needed for activation of Vitamin D.  As well as healthy bone formation, ie the right balance of osteoclasts (cells that break down bone) and osteoblasts (cells that rebuild bone).
Food sources of magnesium include:
Kale, spinach
Cacao
Almonds, walnuts
Pumpkin seeds
Black beans
VITAMIN K2  regulates deposition of calcium from the blood into the bone. Vitamin K2 is primarily synthesised in our gut by our microbiome.
Food sources of Vitamin K2  include:
Natto
Grass fed beef
Grass fed dairy
We need to consider bone health from a young age 
Peak bone mass is reached by our mid twenties. Then we see a gradual decline as we age, with an accelerated drop after menopause.
I wish I knew in my younger years what I know now about bone health. My calcium intake from foods was not ideal. I hated milk and never ate cheese nor cream. The other sources of calcium, such as sardines were definitely not something I chose to eat.  How things have changed! Then looking back on my blood tests from my 20s and 30s I had insufficient Vitamin D levels. Consequently I didn't achieve the best starting point for bone density.
It's so important to build strong bones from an early age so that you have a high starting point. I do worry about girls on restrictive diets not getting adequate bone building nutrients.
Good news is there is so much we can do to support strong healthy bones at any age
I'll explore this further in future newsletters. In the meantime if you'd like to learn more about calcium, how much you need and ways to include it in your diet you can read more here.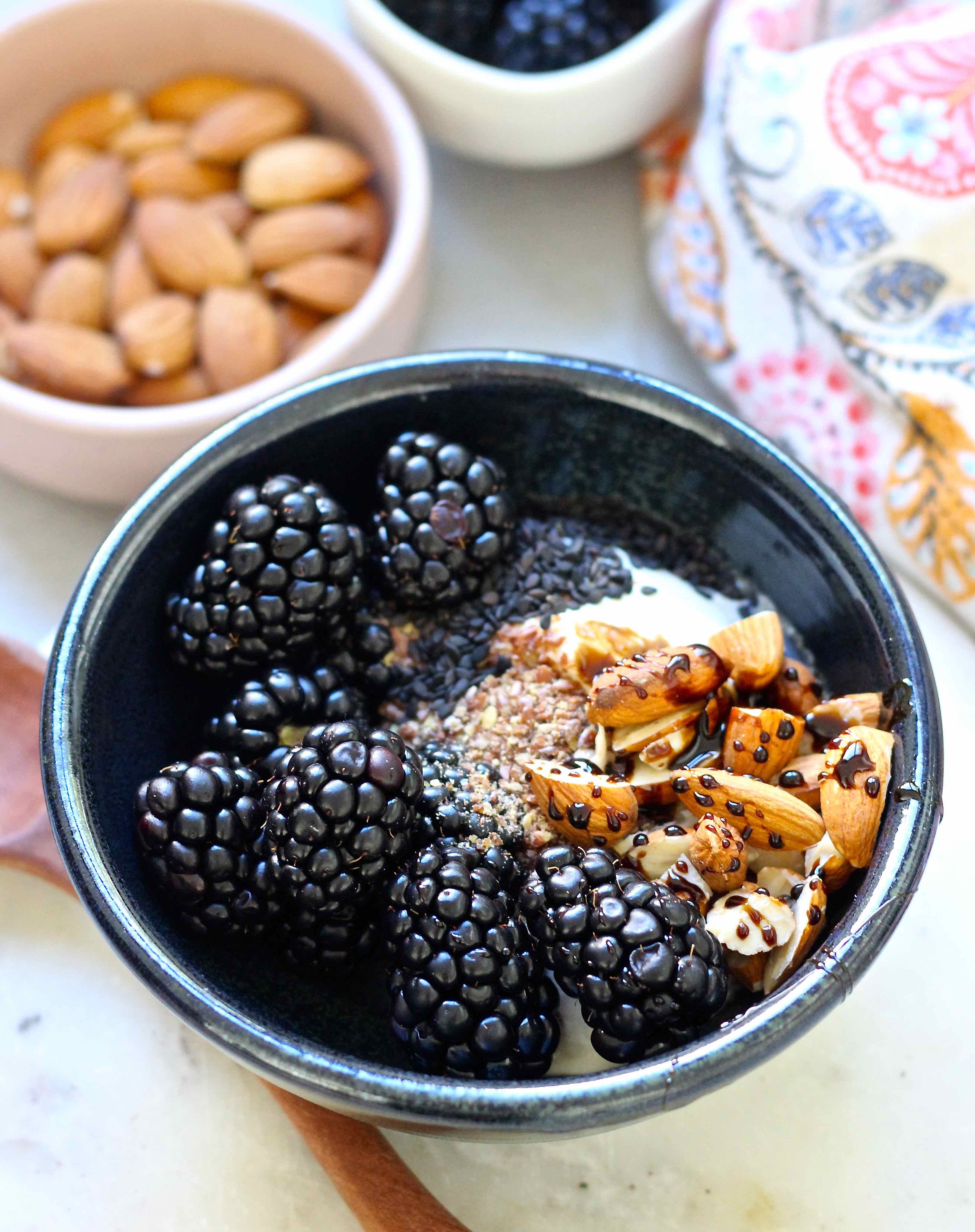 Bone Building Breakfast Bowl
I've created a breakfast bowl that's full of nutrients for healthy bones. It also provides 11g protein which is roughly the same as two eggs. Did you know molasses is a source of calcium? Just half a teaspoon provides 33mg which is the same amount of calcium as in ten almonds.
BONE BUILDING BREAKFAST BOWL
Serves 1
100g (1/3 cup) full fat yoghurt
75g (1/2 cup) blackberries or raspberries
2 tsp flaxseeds, ground
20g almonds, roughly chopped
1 tsp sesame seeds
½ tsp blackstrap molasses
Optional: Sprinkle of cinnamon
Below is more detail on the main nutrients in this breakfast bowl. Btw the combination of protein, carbohydrate and heathy fat in this breakfast will keep you fuller for longer and stop you reaching for a snack mid-morning.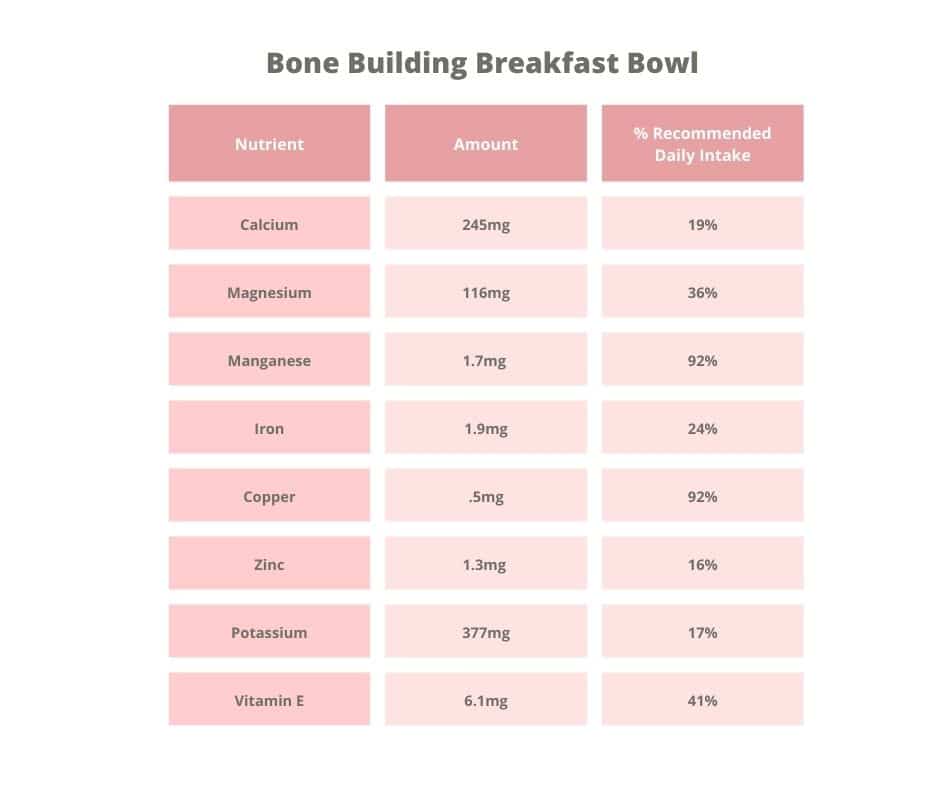 Bone health is a passion of mine and in future newsletters I'll share more information and tips so that you're armed to move through life with lovely strong bones.
If you have any specific questions about bone health please reply to this email.
Wendy
Nutritionist & Caterer
0403 861 117
wendy@acutabove.com.au
www.acutabovenutrition.com.au